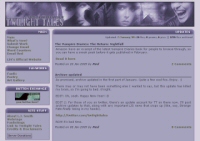 Twilight Tales
is run by
Red
, and is the main fanworks archive in the fandom. It has over 1250 pieces of complete fanfiction along with a whole lot of fan art from all of the books written by L.J. Smith.
It was created on the 17th March 1998, and was originally the fanfiction archive for Circle Twilight, one of the main LJS fanclubs at the time. It became an independent website about a year later, when Circle Twilight became no more.
Red made the decision in 2000 to only accept complete fanfiction, for the sake of his sanity. This was back when there were a lot of fanfics being written, and lots of individual parts being submitted, and keeping on top of updating the archive was difficult.
Community content is available under
CC-BY-SA
unless otherwise noted.